The main locations where activities supported by the DFAOP are carried out are (i) The School of Physics where the Laboratory for Atmospheric and Planetary Research (LIAP) is located, (ii) The Center for Geophysical Research (CIGEFI) and (iii) The Climate System Observation Laboratory (LOSiC) building located in the northern part of the sports campus close to the University Stadium.

The Costa Rica CoE has a history that goes back to the beginning of the VLab. The first VLab activities were carried out in UCR during a "Train the Trainers" event. Dr Vilma Castro supported the Center of Excellence for many years and trained future professionals in Satellite Meteorology without forgetting the technical aspects needed to obtain the information and generate products. Dr. Castro took a leading role in the development of the VLab in the region along with an enthusiastic group of assistants and professors at the University of Costa Rica.
VLab foundations

Dr. Vilma Castro (right), M.Sc. Rosario Alfaro (center) and M.Sc. Gabriela Chinchilla (left) participating in activities of the CoE.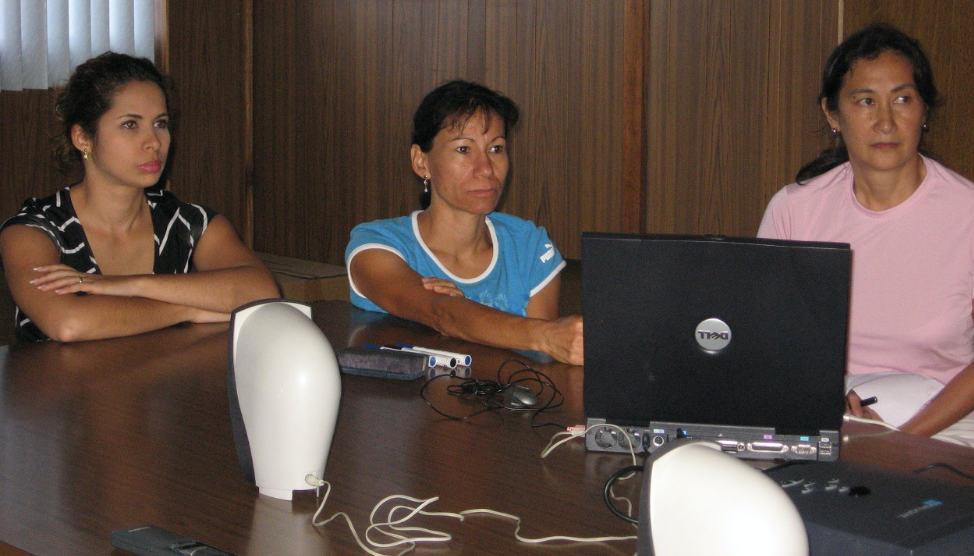 Our CoE has utilized different ways to gather satellite imagery during the years, originally disks with information were mailed to UCR. Later, RAMSDIS (McIDAS-based system) and a NOAAPort connection using a satellite dish were the main methods utilized to obtain satellite information and products. Later, with support from UNIDATA, UCR was connected to the IDD Network and has been using it since the early 2000s. Nowadays, better ways to use the IDD Network have been created (Virtual Machines and Dockers) and UCR is again supporting its utilization. Inexpensive computers can provide satellite products needed for quality training and product utilization.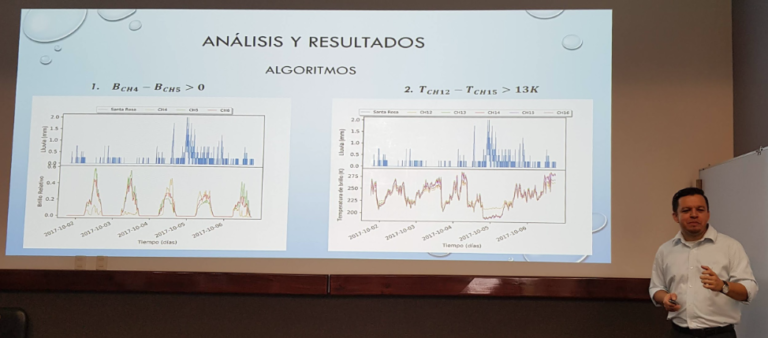 New generation of satellites
Master program student Eladio Solano during the presentation of the final graduation project (FGP), titled "Analysis of GOES-East satellite imagery for Costa Rica during Tropical Storm Nate". This FGP is the first to utilize products obtained from the new generation of meteorological
As a Regional Training Center and according to the mission of UCR, we have the responsibility to train professionals in the area of Meteorology and Atmospheric Physics not only for Costa Rica, but for other countries in the region. The University of Costa Rica has been a WMO RTC since 1969 offering the undergraduate program in Meteorology and several graduate programs in related areas. There are currently two academic programs in Meteorology and Hydrology. A new online program in Operational Meteorology was recently created to train professionals in the region. One of the most recent graduates of the program completed his thesis in utilization of GOES 16 products to locate areas with high probability of extreme precipitation from convective clouds.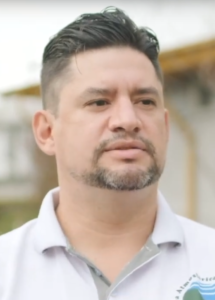 Dr Marcial Garbanzo Salas
Director of the Department of Atmospheric, Oceanic and Planetary Physics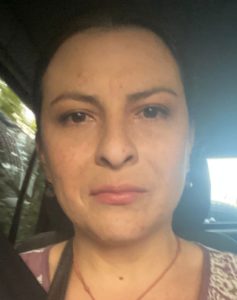 Dr Gabriela Mora Rojas
Point of Contact for the VLab at the University of Costa Rica